One thing I learned early on when I was working as a newspaper photojournalist was that everything — words, graphics and photographs — should be edited. A writer rarely lays down the perfect piece of prose on the first draft. There are revisions and revisions, often by more than one set of eyes.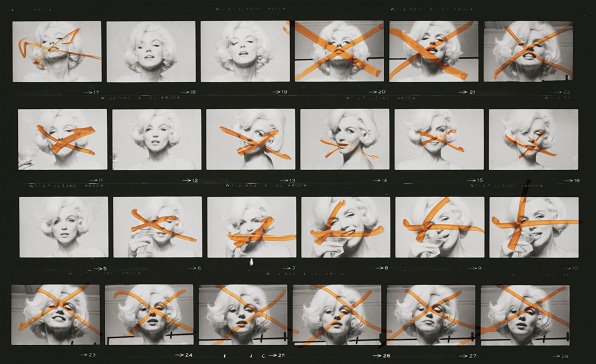 Bert Stern from the Taschen book Norman Mailer/Bert Stern: Marilyn Monroe
As a photographer explores a subject with the intent of communicating visually, there are usually many more photographs taken than are necessary to tell the story. A photographer working in this way will often refine composition, angles, and look for the perfect moment. It takes time and a tireless attention to detail. The best photojournalists, like the best wedding photographers, are skilled at anticipating where and when the action will occur and being ready for it. Chance favors the prepared mind.

Brian Duffy, from www.parisphoto.com
Editing is one of the most important skills we should improve and master for our clients. It means more than taking out the winkers, blinkers and blurry images. It means really looking through the shoot and ruthlessly paring down to just the images that represent each setting best. For a portrait session, I may take one or a few hundred images, but I only show my clients the very best ones, usually somewhere between 20 and 40.
This has a couple of notable effects. First, the client only sees themselves looking great, which is a foundation for confidence and sales; second, I avoid client burnout, where they have so many images to sift through (and now THEY are trying to find the ones they like best); and finally, I am showing my very best work, work that I can be proud of, work that enhances my reputation.
So ask yourself, what is more important – quantity or quality?
If you want to look at some more famous photo edits, there is a good book compiled by Steve Crist called The Contact Sheet.